The Farmtrac FT30  is a compact, 4WD tractor, with a "small footprint". It is ideal for nurseries, golf courses, landscaping, horse properties and small farms. The FT30 has a wide wheel kit for increased stability on hilly properties.
The Farmtrac FT30 is equipped with a quality front end loader and a 4-in-1 bucket. Use it to spread soil or aggregate, maintain driveways, clean up after animals, collect firewood and debris or pull out weeds and undergrowth. The Farmtrac FT30 is a terrific small farm, all-rounder!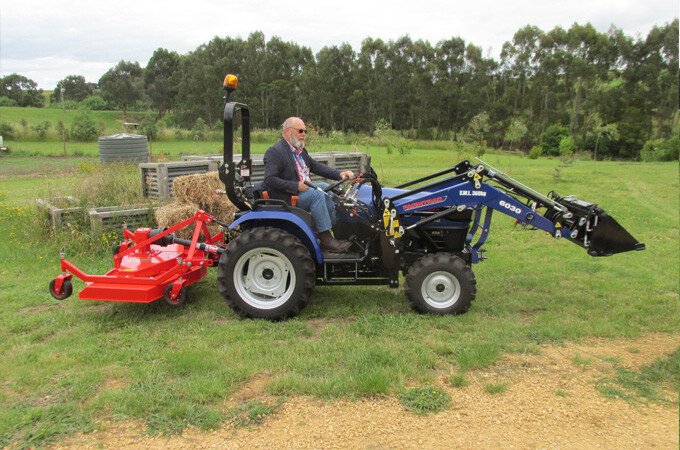 The Farmtrac FT30 is powered by a renowned Mitsubishi diesel engine, with Mita hydraulics to drive its front end loader, linkage and remotes. It will handle a slasher, mower, rotary hoe, backhoe, post hole digger or a wood splitter with ease.  Choose between Ag or Turf tyres for optimal performance.
---
This month, we are offering an excellent package deal on the Farmtrac FT30:
FARMTRAC 28hp 4WD ROPS Package
Was $24,950
$23,950 inc GST
SAVE $1,000
Only $97 per week
AUSTRALIA WIDE DELIVERY (POA*)
Prices include GST. Finance available TAP, conditions apply.
Finance terms: 5.75% interest, 10% deposit over 60 months.
*ABN holders only. Delivery fees will vary depending on location.
---
This versatile package consists of:
Farmtrac FT30 tractor – 28hp 4WD, Diesel
Self leveling front end loader, QR with 4-in-1 bucket, joystick controls, SWL 360kg
Farmtrac ag tyres
> Farmtrac FT30 tractor specifications PDF (1 MB)
---
***BONUS***
Choose $2,000 of additional AGMAX implements FREE with this tractor package!
---
Farmtrac FT30 Features & Benefits
Heavy duty, self levelling, quick release 4-in-1 loader (Burder), SWL 360kg
Front axle and hubs designed for FEL use
Large wheels and wide track for increased stability on slopes
Solid, cast-iron chassis, increases traction and power to the ground
Mitsubishi engine – 3 cylinder
Mita hydraulics with single remotes to suit backhoes, wood splitters, etc.
Gears 9F/3R
Cat 1 TPL
2 Speed PTO
4WD
High vision lights
Reversing light
Revolving beacon light
Optional Ag or Turf tyres
Split brakes
Heavy duty draw bar
Fully supported by SOTA Tractors
---
Package Variations
SOTA carries quality tractor implements in stock and we are happy to advise you and quote on an extended tractor and implement package.
We can tailor an implement package to your specific needs and budget. You can select from our huge range of implements to build the correct package for your requirements.
---
Farmtrac Tractors are Tough & Reliable
The Farmtrac FT30 is manufactured at state-of-the-art facilities in India, the largest tractor market in the world.  Indian environmental conditions can be similar to Australia – rugged, arid and dusty.  All Farmtrac tractors undergo a rigorous testing regimen. When testing a new model and also in subsequent batch testing, Farmtrac engineers perform comprehensive testing under heavy operational load, in an attempt to "break" the tractor. Furthermore, individual components, from drive-train to the hydraulic and lighting systems, are tested under prolonged load, to measure efficacy and endurance.
Prior to being signed off by QC, each individual tractor is tested to ensure it is operating flawlessly. Finally, the tractor undergoes an inspection under ultraviolet light, to ensure that all joins and gaskets are sound and leak-free.
---
SOTA's After-Sales Service
Your  Farmtrac tractor package is backed by SOTA's high standard of customer service – we don't forget you once you've made your purchase. Please read what our customers think about our after-sales service.
Every tractor, loader and implement is fully inspected and pre-delivered by our qualified technicians before leaving our warehouse. They are delivered to your property ready for use. Our delivery service includes an installation of your tractor by a skilled operator to ensure you properly understand how to operate your machinery.
---
Warranty
All tractors, loaders and implements come with a full warranty and operator's manual. We have a full complement of spare parts on the shelf for your Farmtrac tractor and we respond promptly to your inquiries. You won't be disappointed with a Farmtrac from SOTA Tractors!
---