The Farmtrac 690DT is the best priced, 90hp cab tractor on the Australian market, costing far less than other premium cab tractors. It is an ideal tractor for medium sized properties and commercial operations such as dairy farms, where all-season, any-weather operation is essential.
This Month's Package Deal
Features & Benefits
Support
Specifications
FARMTRAC 90hp 4WD Cabin Package
$62,950 inc GST
AUSTRALIA WIDE DELIVERY (POA*)
Prices include GST. Finance available TAP, conditions apply.
Finance terms: 5.75% interest, 10% deposit over 60 months.
*ABN holders only. Delivery fees will vary depending on location.
---
This versatile package consists of:
Farmtrac 690DT 90hp tractor with premium, all-weather, air conditioned cabin
Front end loader, self-levelling, QR with 4-in-1 bucket, joystick controls, SWL 1090kg
Farmtrac rear wheel weights
Farmtrac front mud guards
> Farmtrac 690DT tractor specifications PDF (1 MB)
---
Leaves the competition dead on price…
The Farmtrac 690DT is a premium cabin tractor at a non-premium price.  A premium cab tractor normally costs $1000 per unit of horsepower, as a general rule of thumb.
SOTA Tractors is the importer of Farmtrac. We sell directly to our customers. The Farmtrac 690DT is priced many thousands of dollars less than the competition!

The Farmtrac 690DT is manufactured in Europe with world-class components including a Perkins engine, Carraro transmission, Bosch fuel injection system and Mita hydraulics. It is a feature-rich tractor, offering exceptional build-quality and reliability. It is built on a rugged, cast-iron chassis for years of heavy-duty, all-seasons applications.
An "All-Seasons" Tractor
The Farmtrac 690 DT is ideal for medium sized properties where maximum up-time and versatility are the most important considerations. The cabin offers first-class protection all year round, with quality soundproofing, heating and air conditioning as well as front and rear work lights, for night work.
Four-Wheel Braking
The Farmtrac DT series employs state-of-the-art technology for superior stopping power at highway speeds and on hilly, wet terrain. When the Farmtrac's brakes are applied, the braking process is translated through the driveline to the front wheels. 4WD is automatically activated, indicated by a light on the dash. Once the brake pedal is released, the tractor will automatically return to 2WD. This is an excellent safety feature on hilly farms, especially on wet grass where weight on the back of the tractor may cause slippage.
Premium Cabin
High visibility, all-weather cabin with heating & air conditioning
Soundproofed, ergonomically designed cabin with step-through deck
Premium pneumatic suspension seat with seatbelt for driver comfort and safety
Ancillary instructor's seat
Double handrail with smooth welds for hazard-free mounting and dismounting
Steps are staired for safer mounting and dismounting
360 degree seated viewing and increased work area viewing
Open platform design for excellent operator access and comfort
Modern instrumentation
Sony AM/FM radio + USB, with Pioneer speakers
Drivetrain, Hydraulics, Electrical
Perkins engine (England) – 4 cylinder
Carraro transmission; synchro-shuttle shift, 24 x 24;  0.5 – 40 km/hr
2WD / 4WD selection, for optimal traction and manoeuvrability
Four-wheel braking for superior stopping power at highway speeds and on hilly, wet terrain
2 Speed PTO provides correct implement PTO speed
Mita hydraulics with triple remotes to suit backhoes, wood splitters, post drivers, etc.
Bosch fuel injection system
LUK clutch (Germany)
4-in-1 Front End Loader (European)
Heavy-duty, quick release, self-levelling 4-in-1 loader, optimised for FEL applications:
Tractor significantly heavier than Korean and Japanese tractors
Front axle and hubs designed for FEL use
Rear wheel weights are standard
High-lift loader with certified SWL: 1090kg
Grille guard
Large, high capacity H.D. 4-in-1 bucket as standard kit
FEL 3rd service valve protection on the front of the loader
Loader hydraulic lines protected in the loader arm
Power steering for easy bucket work
Heavy duty pallet and bale fork combo (optional)
Heavy duty bale grab (optional)
Multifunctional bale grab (optional)
Wheel Kit
Large wheels and wide track for increased stability on slopes
Radial tyres
Front mudguards
Rear wheel weights
Full Lighting System
High vision lights and additional LED work lights
Reversing light
Revolving beacon light
Suitable for road registration
Other
Solid, cast-iron chassis, increases traction and power to the ground
Cat 2 TPL
Integrated top link keeper
Heavy-duty drawbar
Certified to comply with Australian Standard 1636
Manufactured in Europe
SOTA's After-Sales Service
Your  Farmtrac tractor package is backed by SOTA's high standard of customer service – we don't forget you once you've made your purchase. Please read what our customers think about our after-sales service.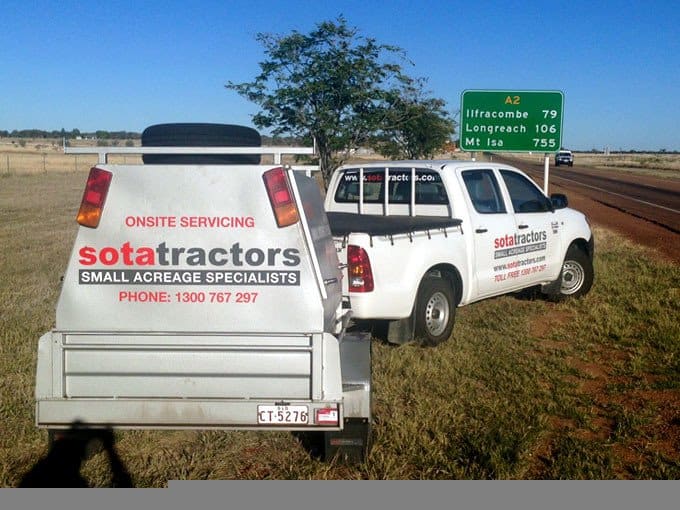 Every tractor, loader and implement is fully inspected and pre-delivered by our qualified technicians before leaving our warehouse. They are delivered to your property ready for use. Our delivery service includes an installation of your tractor by a skilled operator to ensure you properly understand how to operate your machinery.
SOTA carries a comprehensive inventory of spare parts for Farmtrac tractors. This includes major components such as oil pumps, generators, heads, etc. and all consumables such as filters, belts, oils and so on.
---
Warranty
All tractors, loaders and implements come with a full, written warranty and operator manuals. We have a full complement of spare parts on the shelf for your Farmtrac tractor and we respond promptly to your inquiries. You won't be disappointed with a Farmtrac from SOTA Tractors!
---